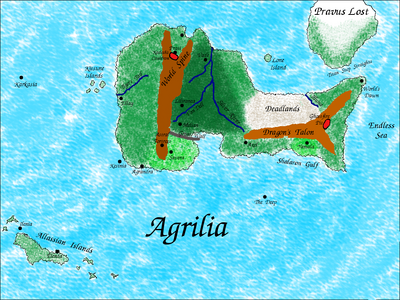 Agrilia is also known as the Main Continent of Galara. Most mortal actions and storylines take place there.
The goblin nation.
A mainland nation of Aventi.
The original Aventi nation, and the Aventi homeland.
Nation of Shadar-Kai and Dwarves.
A nation in the World Spine Mountains composed mostly of Empyreans. It mostly trades with the elves.
An elven nation that also has many bonded Lycans.
A large expanse of undead territory.
Minor Factions
Edit
A small empire with a radius of only about 10 miles. They quickly tried to ally with the other nations but most nations refused them.
This group is composed of many small villages. A poor region that is often forgotten by the gods, The Legion considers them good friends.